I just found out that
Cute Coconut
has awarded me with my very first Liebster Blog Award. This is surely a blessing and a great honor to be considered up and coming in the blogger world!
In case you are not aware, this award spotlights the up and coming blogs that have less than 200 followers. So what's the catch for this award?
By accepting this award what we need to do is:
1. Copy and paste the award on our blog.
2. Thank the giver and link back to the blogger who gave it to us. (thanks
Cute Coconut
!….the link is below or on her name or blog name in this blog post)
3. Reveal our top 5 picks and let them know by leaving a comment on their blog.
4. Hope that our followers will spread the love to other bloggers
Thanks to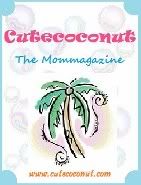 for the award!

My five awards go to:
Africa's Blog!
On the Flip Side!!
Anywhere is My Scramblings and Ramblings!

Naturally Healthy Parenting!
and...
Jordandene
!