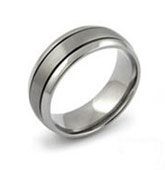 So, mommy's what do we get for the fathers who bring home the bacon, work hard to educate themselves to further their job thus increasing their paycheck, who come home and instantly give us a break by playing with the kids and/or walking the dogs, plus keep themselves in shape and looking good for us? Why not upgrade their wedding band.
Doll yourself up and make a specail mood and meal, then get down on one knee and ask them to continue being your hubby with a beautiful titanium ring. I say titanium because if you guy is like mine, he can be a little rough on his ring. This one is identical to my hubbies and he love it!
If I hadn't just got this for him last year I might be getting him one of the awesome
black titanium rings
that I've been seeing around. They are durable for the rough on his hands kind of guy and look amazing! Some even can have diamonds or other jewels in them! Maybe, you are like me and just upgraded you're hubby's ring! That's Ok, a nice
titanium bracelet
or necklace still makes a great gift! Each year for the big V-day us woman hope for jewerly, why not give some to our men to let them know we care about them just as much as they care for us! Upgrading you're rings is always a romantic way to say, "I love you and want this to last forever"!