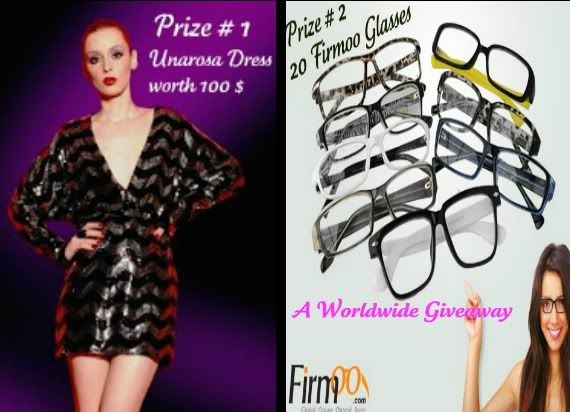 Here is a great fashion opportunity for those bloggers out their with a keen sense of what looks good! There are two prizes for your readers win! A Unarosa dress and 20 Firmoo Glasses! The giveaway will start April 20th and end May 4th. If you are inteterested in offering this Worldwide Giveaway to your readers and fans then sign up now!
This is a WORLDWIDE GIVEAWAY. You must have a live post on your blog on the day the giveaway begins. Please join the group for more updates
http://www.facebook.com/groups/298680406870440/doc/302773666461114/
A blogger must pay only 1$ (FB link only) OR 2 $ for 2 links (FB & Twitter) Send the payment via paypal to
thesleeplessgal@gmail.com
If offering an amazing fashion giveaway to your fans from all over the world wasn't enough their are also some blogger prizes to win!
The TOP 3 Bloggers who referred the most bloggers to sign up in this Fashion Giveaway, so start inviting!
AND.....
The TOP 5 Bloggers ( with each firmoo glasses of choice) who referred most in the contest .
Sign up and make sure you tell them Mommy Moments with Abby sent you!!!
http://www.sleeplessgal.com/fashion-giveaway-sign-up/