No I'm not talking about jewelry, clothes, shoes, or purses like I normally would. Instead, give her a little pampering and the gift of an uninterrupted bath. All mom's dream of the bath that isn't interrupted with a phone, child, dog, or doorbell pulling them away. The kind where they can soak their over worked muscles and chill out their over worked minds. Here is how to make the perfect mother's day bath for the mom in your life.
First, is your wife a morning or evening bather? You will need to do some prep for the bath so try to get it all together before her bath time. If she is a morning bather you may have to get up early. Get your tools. Start by getting her a bath tray that fits your tub and goes across the tub with a place for her loofa(or the one you get her) a book or her kindle, and a glass, if possible a small spot for a bowl that you put fresh fruit in is a plus. Next, get her a new book in the genre she likes or new kindle download of the same type. Put in the bathroom some candles for mood lighting, and make sure there are enough to provide movement light so she doesn't stub her toe on anything. Now get her some egyption cotton over sized towels for when she gets out of the bath.
The most important part of the bath is the products that go in it. I highly recommend using something scented that adds a bit of a spa feel to your bath like the
Dona sensual chromotherapy bath treatment
–
bath oil. The Dona Sensual Chromotherapy Bath Treatment
will turn your bath a glorious shade of blue and put a sweetly exotic scent in the air bringing the spa feel to your wife's bath. You can find this currently on sale for 25% off at EdenFantasys.com.
Next you need what all good baths have, bubbles. Now, when she gets in the bubbles will cover the nice blue of the water that gives the spa feel you've added above, but that's part of the surprise! She will see it as the bubbles go down and love the "get away" feeling of being at a luxurious spa that it gives. Back to the bubbles. You need a really
foamy
bubble bath that doesn't leave a residue on her skin for this bath to really feel pampering and spoiling! I suggest the
Treasures of the sea
–
sensual kit. The Treasures of the sea-sensual kit

c
reates a frothy bubble bath with this blend of nature's most precious gifts - vitamins, minerals and nutrients from the sea. Treasures of the Sea leaves your skin feeling soft, your body nourished and your soul reawakened. Complete with a real seashell scoop.
Now, If its morning take the kids out for breakfast after you have prepared a mimosa for your wife to go with her fresh fruit, newly prepared bath, set out the new fluffy towels, given her her new book/kindle with book, lite the candles, and told her she has 1 and 1/2 to 2 hours of uninterrupted bath time. Do not come back with the kids before this time!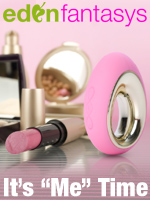 If it's evening then put the kids in bed and do their baths after you've set up her bath, clean up the house completely so when she get's out she can enjoy her relaxed state even longer. Instead of a mimosa give her a glass of wine to go with the fruit and book. Maybe, if it's something she would like after about an hour with the kids down, join her in the bath! Adding a little romance never is a bad idea for a mom whose possible feels less sensual than she did before the kids. Letting her know she is still worth romancing and is attractive to you can be the best cherry on top of her bath
sundae
that you can option. If you guys are the adventurous sort you can even grab a bath
sex toy
for you two while your ordering from Edensfantasys.com.
You can add things like a new luxurious robe, slippers, splurge on some face products or makeup, or a new silky PJ. Whatever you do just make sure she gets her uninterrupted bath and let her know she deserves some "me" time for all she means to you and the kids!